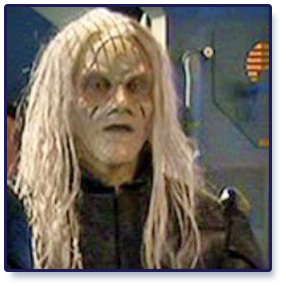 Bullseye –
First Contact (5×10)/The Lost Tribe (5×11)(speculation) –
actor is a bit of a mystery.
GateWorld Episodes and Stargate Wiki conflict on who was in First Contact. Stargate Wiki says James Chutter as "Billy", Brendan Penny as Wraith. But GateWorld doesn't list Brendan Penny amongst the episode guest stars. Meanwhile the IMDb page for Brendan Penny doesn't say he was in First Contact either. James Chutter is a male Wraith in The Lost Tribe and WDC members agreed that this photo is his character.